Intel's NUC 13 Extreme Crams a 13th-Gen Chip and 12″ GPU into a Compact Chassis
Intel has announced the new NUC 13 Extreme Kit and NUC 13 Extreme Compute Element, which it says combine to make the most powerful NUC ever built thanks to its 13th-gen desktop processors and space for triple-slot, 12-inch graphics cards.
The company says the NUC 13 Extreme pairs an optimized thermal design with high performance in a package that is surprisingly small. Intel says the redesigned chassis optimizes airflow to both reduce noise and prevent thermal throttling during heavy workloads without sacrificing the small footprint that the NUC computers are known for.
"The modular Intel NUC 13 Extreme achieves incredible speed with up to a 13th Gen Intel Core i9 desktop processor with eight Performance-cores (P-cores) and 16 Efficient-cores (E-cores), 32 threads, and up to an incredible 5.8 GHz max turbo frequency," the company says.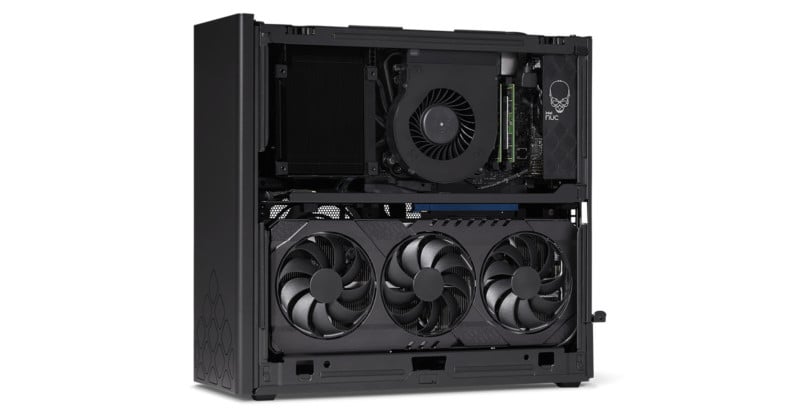 The NUC is a kit, which means it doesn't ship with everything users will need to start using it right out of the box, but it gets them a good chunk of the way there, and the chassis design is intentionally made easy to add the necessary parts. Intel offers three starting points for the computer that are based on how much power users want from the processor: an i9-13900K, i7-13700K, or an i5-13600K. The NUC also comes with an Intel 2.5GbE (i226-V) / 10GbE (AQC113) LAN, Intel Killer Wi-Fi 6E, two Thunderbolt 4 ports, and six USB 3.2 Gen2 rear ports. It also includes a 750W 80+ Gold SFX 12VO internal power supply with geo-specific C13 AC cords.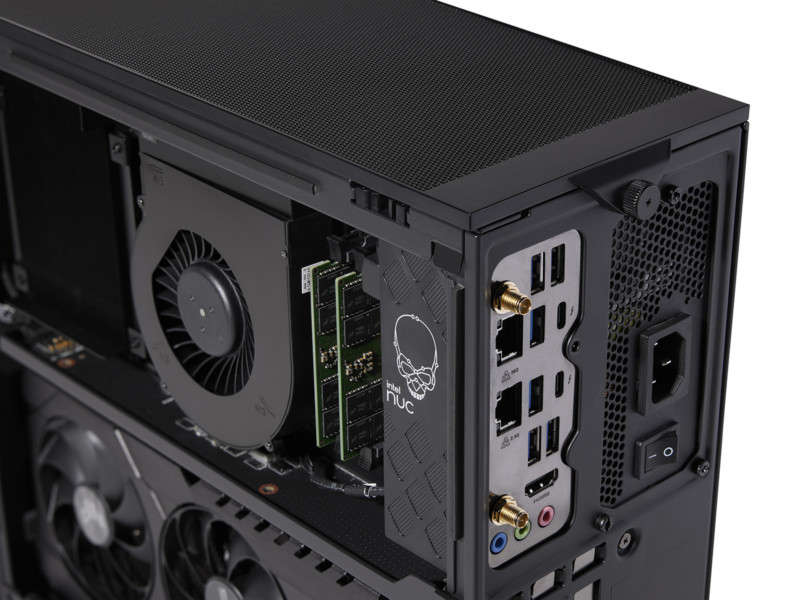 It doesn't come with RAM, an SSD, a GPU, or an operating system, so users will have to figure that part out on their own. The NUC 13 Extreme supports up to 64GB dual-channel DDR5-5600 MHz SODIMMs, PCIe Gen5 x16 new triple-slot 12-inch graphics cards (the NUC chassis can fit NVIDIA 3000 series cards but is not large enough to accommodate the 4000 series cards), and up to three PCIe Gen 4 NVMe SSDs (M.2 2280).
The Intel NUC 13 Extreme is expected to be available first in China with a release to wider audiences during the fourth quarter of 2022, with more rolling out through early 2023. Prices for the Intel NUC 13 Extreme Kit will range from $1,179 to $1,549, and $760 to $1,100 for the Intel NUC 13 Extreme Compute Element depending on the configuration.