AstrHori Has a 28mm Macro Probe Lens That Looks A Lot Like Laowa's
AstrHori has announced a new 28mm f/13 2X macro probe lens that sure looks a lot like the Laowa-branded one Venus Optics originally released in 2018.
AstrHori's new 28mm f/13 2X probe lens consists of 21 elements in 16 groups, has an aperture range of f/13 to f/40, grants 2x magnification, and has a focus range starting at 0.481 meters (about 18.9 inches). As noted by DPReview, that's just the measurement from the subject to the focal plane, the actual working distance is much shorter at 8mm (about 0.3 inches). For reference, Laowa's two models of probe lens focus as close as 0.8 inches but are also slightly wider.
The probe also connects to a number of cameras including Sony E, Fuji X, Nikon Z, Canon RF, PL, and L mounts.
The macro probe lens also breaks down into two pieces, which makes it easier to carry especially considering its unusual size. The front lens is covered in sapphire material, which the company says makes it wear-resistant, bump-resistant, and stronger.
AstrHori's macro probe lens is also waterproof and dustproof from the first 25 cm of length from the front of the lens. All of this means that not only does the probe design make it possible to shoot macro in hard to reach places, the actual build makes it usable in far more use cases. There is also an LED light that helps illuminate surfaces, but it pulls power from a USB or battery pack rather than relying on the camera, according to DPReview.
Many of these details are similar, if not the same in some cases, to the Laowa macro probe lens. Both have similar compatibility, a waterproof, and 2x magnification.
The new product is available on Amazon for $739 for all mounts where the listing says it will ship in two to three days (though the Nikon mount model says seven to eight days). The probe lens doesn't seem to have made it to AstrHori's official website yet, but it is available from PerGear in addition to Amazon.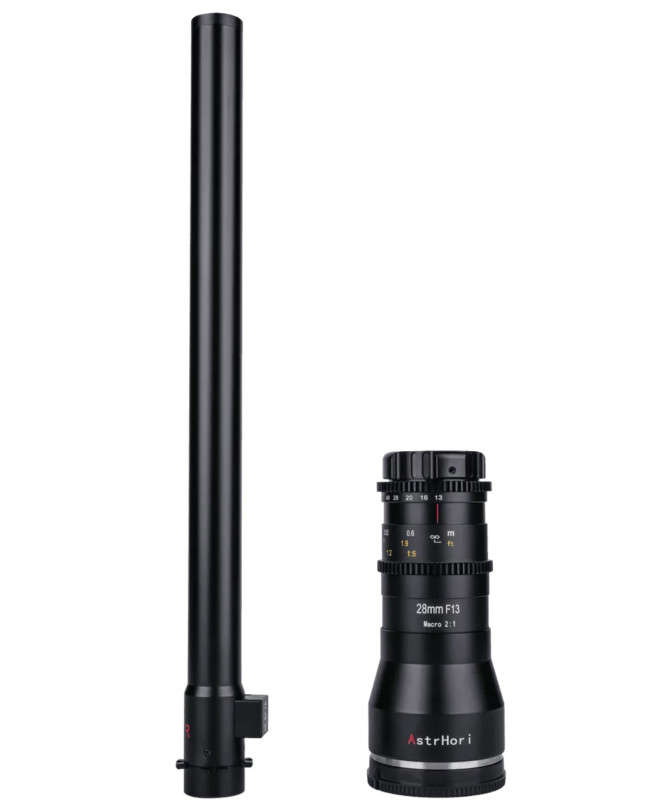 But despite the similarities between AstrHori's new macro probe lens and Venus Optics' Laowa model, there is one crucial difference: price. Venus Optics' Laowa lens sells for $2,299, although the company announced a price reduction of its standard periscope lens to $1,449 and $1,599 for the Cine model. That's still about twice the amount that AstrHori's probe lens costs.
With both products having similar usage and specs, this might price gap might determine which macro probe lens photographers put their money behind.