A Song for the Arctic: The Overwhelming Beauty of Greenland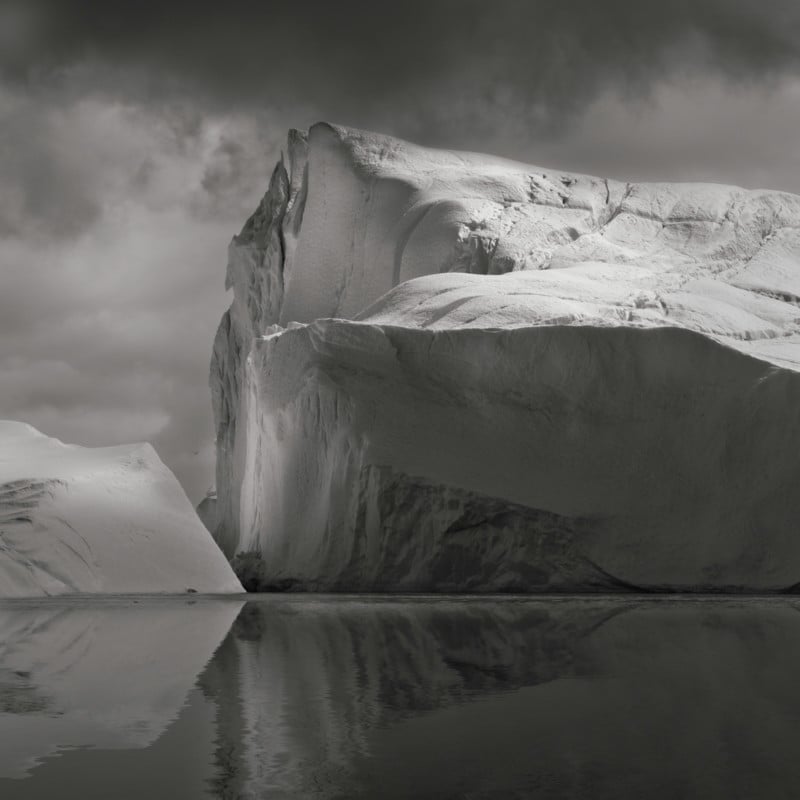 The beauty of the Arctic is overwhelming. The biting cold and the pristine silence is punctuated by occasional extraordinary sounds, as the glacier ice creaks and falls. At the centre of this beauty are the enormous structures of freshwater ice calved from the glaciers, the great icebergs.
I have visited Greenland since 2010, both the east and west coasts, and have spent days on small boats in this stunning yet fragile environment, quietly watching the majestic icebergs sail by. But until my last visit in 2019 I had failed miserably in creating what I consider to be a decent photograph. I think of myself as a minimalist photographer, always looking for space in my work, room to let the eye roam. I suffer from mild claustrophobia and have often wondered whether this is the reason I like to have so much space around my chosen subject matter. But in Greenland, when confronted with these magnificent structures, I simply could not make the compositions work, as if such complex sculptures deserved more attention. The conditions were just not right either. The sun was out constantly, and because the sea ice has a very bright surface, it reflects 80% of the sunlight that strikes it, giving very high contrast situations not ideally suited to the work I usually produce.
And then, on the last day of a week-long expedition, I realized with an aching heart that what I was witnessing may never be seen by my children's children. These beautiful ice ships may be making their final voyage. Climate change, reckless exploitation, destructive fishing trawlers, and risky oil drilling have all taken an immense toll on this global treasure.
So I started shooting differently, and rather than looking for the minimalism I generally pursue, I hunted great light, form, and drama. Swimming in my mind were the black and white portraits of the legendary movie stars of old, and the pioneer landscape photographers of the 1930s and '40s whose breathtaking vistas of US National Parks serve as monuments of another time. I tried to put into each frame an echo of those times, along with the ache I could feel in my heart. And this time the weather was kind to me.
The wind dropped and a heavy sea mist rolled in, causing chaos at the local airport but giving me mood and atmosphere. As it lifted, clouds formed and the drama I had longed for rolled out in front of me, film set after film set of enormous cathedrals of ice all moving silently onwards. I worked for 10 hours straight, not daring to take a break, drifting from structure to structure, until finally the wind picked up, the clouds retreated, and the unrelenting arctic sun once again cast its harsh light over the dark blue velvet sea.
The next day I had to leave this wonderful place.
One successful day out on the water, nearly 10 years in the making.
I always have an emotional connection to the subjects I shoot, but this was different. It was like photographing a beloved relative with a terminal disease — horrifying, but beautiful.
I hope with all my heart that you enjoy these photographs. I will never forget making them, and hope that despite the best efforts of mankind, our children's children will look at them, not out of curiosity about the long departed, but just to admire the beauty of our planet.
As I write this I am preparing for another trip to Greenland. I can't help but wonder what will happen this time.
---
The article courtesy of ELEMENTS Magazine. The ELEMENTS is the monthly magazine dedicated to the finest landscape photography, insightful editorials and fluid, clean design. Inside you will find an exclusive and in-depth articles and imagery by the best landscape photographers in the world such as Charles Cramer, Christopher Burkett, Paul Wakefield, Hans Strand, Rachael Talibart, Charlotte Gibb, Michael Frye, to name a few. Use the PETAPIXEL10 code for a 10% discount off the annual subscription.
---
About the author: Jonathan Critchley is one of the foremost fine art photographers in the world today. His instantly recognisable work is seen globally in exhibitions, galleries, magazines and books, and form part of many fine art collections internationally. His regular clients include Ralph Lauren, Ritz Carlton, Fortuny and Vogue Magazine. Jonathan also speaks and presents his work at photography and sailing events worldwide, and is the founder and owner of Capture Earth and Ocean Capture, two companies specialising in luxury photography workshops & tours. 
Born in London, England, Jonathan became infatuated with the sea after moving to the famous sailing town of Lymington on the country's south coast at the age of 14. Years later, having moved to the South of France, he gave up a successful career as a marketing and brand director in order to return to his true passion; a combination of the sea and fine art photography. He has now worked in over 35 countries, including Mozambique, India, China, Cambodia, Norway, Greenland and Tanzania. Jonathan was named one of the 'Top 100 Photographers of All Time' by both the UK's Sunday Times newspaper and Professional Photographer Magazine. His first book, SILVER, a 136 page fine art edition, was published in 2014, and in 2016 he was made a Fellow of the Royal Geographical Society (FRGS). An active supporter of ocean conservation, Jonathan lives in the Bay of Saint-Tropez in the South of France, with his wife and two children.